Nómada Eco-Hostal in Valparaíso, Chile, a city adorned with colorful murals and perched on the Pacific coast, boasting a vibrant and artistic atmosphere. If you're a wanderer seeking an eco-conscious stay, Nómada Eco-Hostal is your eco-friendly haven.
Nómada Eco-Hostal offers a unique and sustainable lodging experience for conscious travelers.
The hostel's eco-friendly philosophy resonates throughout its cozy rooms and communal areas. With an array of shared dormitories and private rooms, each adorned with eco-friendly furnishings and art, guests are treated to a serene and eco-conscious ambiance. The friendly and knowledgeable staff at Nómada Eco-Hostal ensure that guests feel at home, making it an ideal place to connect with fellow travelers and embrace the artistic spirit of Valparaíso.
Valparaíso, fondly called "Valpo" by locals, is a bustling city with a population of approximately 300,000 residents. One intriguing fact about Valparaíso is its unique topography, with the city sprawled across 42 hills that slope towards the sparkling Pacific Ocean. This layout, along with its captivating street art scene, earned Valparaíso recognition as a UNESCO World Heritage Site.
Valparaíso enjoys a mild Mediterranean climate, making it a pleasant destination year-round. During the day, temperatures hover around a comfortable 18-23°C (64-73°F), perfect for exploring the city's vibrant streets and seaside promenades. As the sun sets, the temperature gently dips to a refreshing 10-15°C (50-59°F), inviting visitors to enjoy evening strolls and take in the mesmerizing views of the city's illuminated hills.
Valparaíso offers a treasure trove of attractions that showcase its rich history and artistic charm. Begin your exploration with a ride on the city's famous funiculars, offering panoramic views of the colorful houses and the vast Pacific Ocean. The Cerro Alegre and Cerro Concepción neighborhoods, adorned with beautiful street art and charming cafes, provide a delightful glimpse into Valparaíso's artistic soul.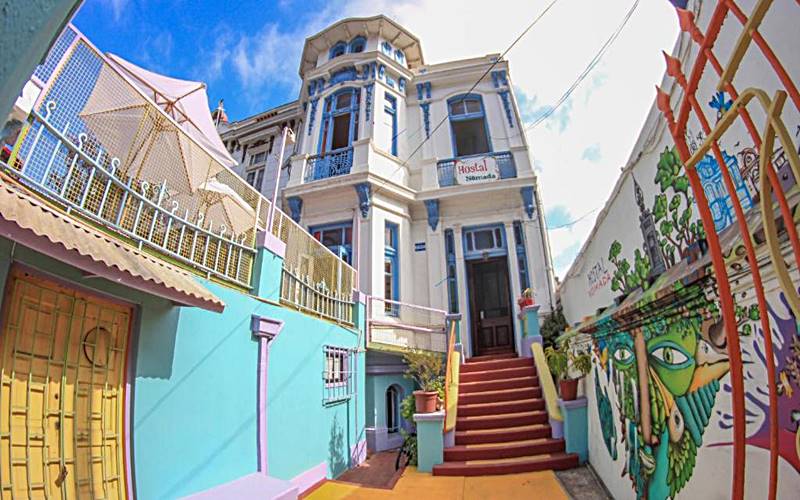 For a deeper dive into the city's history, visit the La Sebastiana, one of the former homes of the renowned poet Pablo Neruda, now transformed into a fascinating museum. Art lovers will be enchanted by the Centro Cultural Ex Cárcel, an arts and culture center set within a historic former prison.
Valparaíso tantalizes taste buds with a fusion of traditional Chilean cuisine and fresh seafood delights. Don't miss the chance to savor the iconic Chilean dish, Chorrillana, a hearty meal featuring tender strips of beef, fried eggs, and a mountain of golden French fries, perfect for sharing among friends.
Seafood enthusiasts will relish the flavors of the classic Jalea, a delectable assortment of fried fish and seafood served with a tangy salsa. To complement your culinary journey, sip on a glass of Chile's famous Pisco Sour, a refreshing cocktail made with Pisco, lemon juice, egg white, and simple syrup.
Nómada Eco-Hostal in Valparaíso, Chile, offers an eco-conscious and artistic haven to explore the city's vibrant streets and picturesque coastline. Whether you're drawn to Valparaíso's artistic allure or enchanted by its historic charm, the hostel provides a serene and sustainable escape for travelers.
Immerse yourself in the city's creative spirit, roam through colorful neighborhoods adorned with street art, and ride the iconic funiculars for breathtaking vistas. Valparaíso's eclectic culinary scene ensures a delightful journey into Chilean flavors, leaving a lasting impression on your palate and your heart.
So pack your bags and embark on an extraordinary journey to Valparaíso, where Nómada Eco-Hostal awaits to embrace you in an eco-conscious embrace. Discover the city's enchanting blend of art, history, and coastal beauty, creating cherished memories that will linger long after your journey ends.
Discover More Top 10 Places to Stay in Chile – Click Here!