Gear
Top 10 Drone Choices for Travel and Adventure in 2023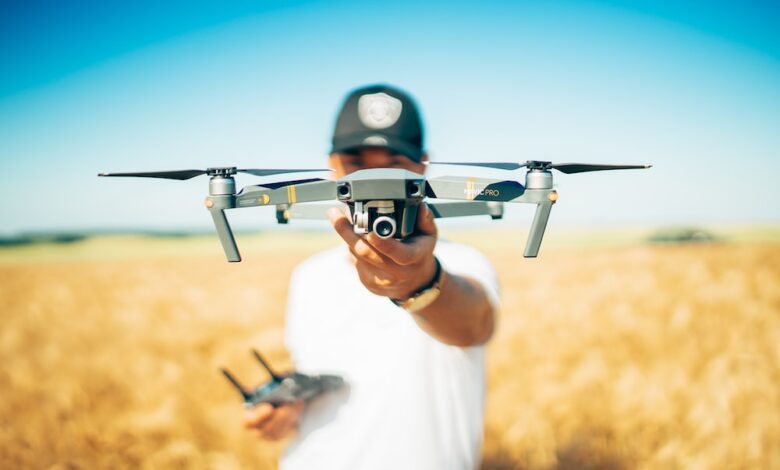 Top 10 Drone Choices – Drone technology has undergone remarkable advancements since its inception, making high-quality drones more travel-friendly than ever. In this guide, we'll delve into the top travel drones available in the market.
The accessibility and portability of modern drones have democratized their usage, making them suitable for backpackers and globetrotters alike. Even remote corners of the world can now become the backdrop for stunning aerial photographs, all captured by the traveler themselves.
Why wait for a professional videographer to capture the essence of your favorite destination when you can do it on your own terms?
If you're ready to elevate your travel experience with a drone, you're in the right place! This guide is designed to assist you in making an informed decision.
We'll showcase some of the premier drones available.
Take the time to explore this guide thoroughly, and then select the ideal travel drone to immortalize your most daring and memorable escapades!
Swift Recommendations: 10 Finest Travel Drones of 2022
BEST OVERALL DRONE FOR TRAVEL
DJI Mavic Air
> Effective sensors
> Portable
> Good photo and video quality
BEST BUDGET TRAVEL DRONE
DJI Spark
> Very small
> Lots of features
> Easy to fly
BEST TRAVEL DRONE FOR PROFESSIONALS
DJI Mavic 2 Pro
> Superlative optics
> Great range and battery
> Very advanced
BEST TRAVEL DRONE FOR BEGINNERS
DJI Phantom 3
> Easy to use
> Great optics
> Reliable battery and range
BEST TRAVEL THAT'S NOT A DJI
Parrot Anafi
> Excellent images and videos
> Great range and battery
> Slim
BEST SELFIE DRONE FOR TRAVEL
Holy Stone HS720
> Small
> Inexpensive
> Performs well
OMG FAVORITE DRONE FOR TRAVEL
Ruko F11GIM2
> Superlative optics
> Great range and battery
> Very advanced
Top 10 Drone Choices
DJI Mavic Air: Overall Best Drone for Travel
The DJI Mavic Air stands out as the ultimate fusion of compact size, optical excellence, and flight capabilities within the drones featured in this guide, all at a remarkably affordable price point. This assurance leads us to confidently declare the DJI Mavic Air as the unrivaled supreme choice for a travel drone.
A prime attribute of the DJI Mavic Air lies in its remarkable portability. When neatly folded for travel, the Mavic Air assumes dimensions akin to those of a tablet, albeit slightly thicker.
With a mere weight of 430 grams, this drone effortlessly slips into an everyday bag, obviating the need for a dedicated backpack. It may even find a cozy spot in a capacious jacket pocket, ensuring swift setup and uncomplicated travel arrangements.
The controller accompanying the DJI Mavic Air can also be conveniently collapsed by disassembling select components, allowing for a more compact form.
Notably, the controller harmonizes seamlessly with your smartphone, facilitated by a physical plug. The DJI app demonstrates commendable responsiveness, except during periods of data-intensive activity. It's worth mentioning that navigating between different shooting modes within the smartphone app can be mildly cumbersome due to the interface's crowded design.
Flying the DJI Mavic Air is a straightforward endeavor, facilitated by its responsive controller and an array of intelligent obstacle avoidance systems that prove highly effective. With a flight time of 22 minutes and an impressive range of 2.5 miles (4 kilometers), this consumer drone offers commendable capabilities.
Notably, the Mavic Air boasts an array of QuickShot modes that enable the creation of captivating photos and videos, adding a creative dimension to your aerial endeavors.
Equipped with a 1/2.3" CMOS sensor and a 24mm lens (equivalent to 35mm), the Mavic Air captures sharp images, although its dynamic range and resolution don't reach the heights of pricier drones. However, its video quality is a standout feature, capable of recording in 4k at up to 30fps and 1080p at an impressive 120fps.
DJI Spark: Best Budget Travel Drone
DJI's dedication to extensive research and development, fueled by substantial investments, has positioned it as the foremost pioneer in the realm of consumer-grade drones. However, gaining access to such cutting-edge technology might naturally be assumed to necessitate a substantial financial commitment on your part, right?
Not quite the case! Allow me to introduce you to the DJI Spark. This model incorporates much of the technological prowess that has propelled DJI's drones to remarkable success while retaining an astonishingly compact form factor. What's even more appealing is its price point, which falls below the $500 mark, making it our top choice for an affordable travel drone in the market.
The DJI Spark is outfitted with a range of features akin to those found in its pricier counterparts. These include in-flight capabilities like obstacle avoidance, innovative QuickShots, physical image stabilization, and even gesture controls, albeit the latter is still a tad rudimentary.
Notable among the attributes of the DJI Spark is its diminutive size. Measuring merely 143×143×55 mm and weighing around 300 grams, the Spark is comparable to the dimensions of a standard soda can, effortlessly slipping into a small backpack. While it could certainly contend for the titles of "best selfie drone" or "best compact drone," its utility extends far beyond these designations.
Despite its small stature, the DJI Spark exhibits commendable stability during flight and demonstrates robust halting capabilities. Admittedly, the drone is somewhat susceptible to wind, a reasonable expectation given its petite frame.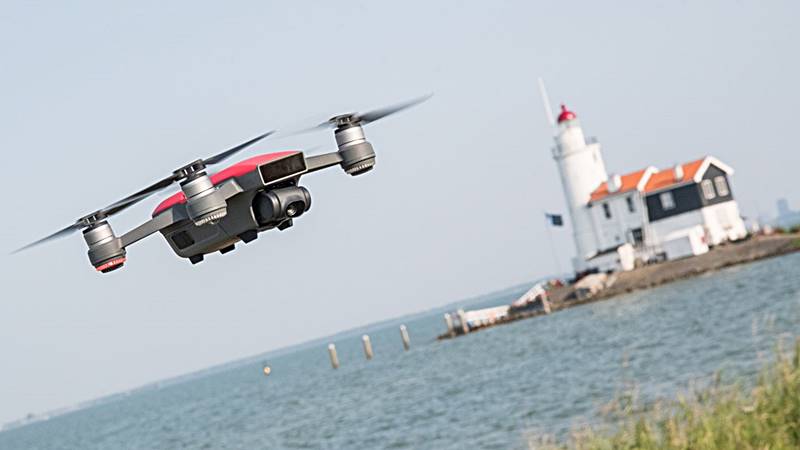 However, the DJI Spark doesn't excel in terms of flight range and duration. Its battery life is confined to approximately 10 minutes, and its travel distance is restricted due to its reliance on WiFi for smartphone connectivity, a connection that occasionally experiences interruptions.
In the realm of image quality, the DJI Spark performs well, albeit with certain limitations. Regrettably, 4k shooting is absent, with the drone offering 1080p at 30fps video recording and 12-megapixel stills.
While the DJI Spark may not reach the heights of its larger sibling, the Mavic Air, it undeniably stands as an exceptional drone for its price, emerging as one of the premier choices for travelers due to its compact size and affordability.
DJI Mavic 2 Pro: Premier Choice for Professional Travel Drone
When it comes to selecting the ultimate travel drone for professional use, the DJI Mavic 2 Pro effortlessly clinches the top spot. As DJI's latest drone boasting cutting-edge technology, the Mavic 2 Pro takes the crown as the most adept contender in its series. For those who prioritize a drone that seamlessly combines versatility with compactness, the DJI Mavic 2 Pro stands as the unequivocal choice.
For those acquainted with the realm of DJI drones, it's evident that the company remains a global leader in research and development. The Mavic 2 Pro encompasses the entirety of DJI's forefront technology, encompassing features like obstacle avoidance, QuickShots, and an array of other impressive functionalities. This iteration's technology is arguably more matured compared to preceding DJI models, elevating the Mavic 2 Pro's flying performance to new heights.
An aspect we've yet to delve into is the DJI smartphone application, a universal feature across all models. While functional, it tends to be cluttered and occasionally perplexing for users.
While this has been a forgivable aspect given the complexity of the tool, one could reasonably expect a more streamlined app considering the substantial investment.
In terms of its overall design, the Mavic Pro 2 remains compact and effortlessly portable. The controller is highly responsive and purportedly effective within a range of up to 5 miles, although the practicality of flying a drone such distances might be questionable. Notably, the drone offers an impressive flight time of up to 30 minutes. Coupled with the Sports Mode, enabling the Mavic to soar at speeds of 45 mph, your exploration options are vast.
Fueled by a 20 MP 1" CMOS sensor, the Mavic 2 Pro excels in delivering unrivaled image and video quality, outperforming all competitors on this list. The drone achieves 4k video at up to 30 fps, and its dynamic range surpasses that of alternative drones.
The lens, boasting a sharp 28mm equivalent field of view, is indeed commendable, although the ability to swap lenses would have been a welcome addition considering the substantial investment associated with this drone.
DJI Phantom 3: Optimal Entry-Level Travel Drone
For those seeking a gentle immersion into the world of drones, the DJI Phantom 3 presents itself as a fitting choice, offering a comfortable starting point.
This stalwart within the DJI drone lineup, the Phantom 3, has earned its stripes as a tried-and-true model, consistently delivering commendable performance over the years.
Recent price reductions have further increased its affordability, rendering it an attractive option for beginners who are venturing into this realm. It's precisely for this reason that we endorse the DJI Phantom 3 as the ideal travel drone for newcomers.
The esteemed DJI Phantom series has carved a reputation as one of the most dependable and cherished among all the brand's drone models. Boasting a 12 MP sensor and 3-axis gimbal stabilization, this model excels in capturing impressive image and video quality.
While this particular iteration lacks 4k shooting capabilities, this omission may not be of concern to beginners, for whom 4k might be excessive. For those desiring 4k functionality, exploring the pricier Pro version is advised.
The DJI Phantom 3 incorporates many of the company's patented and effective in-flight technologies, although not all of them. Notably, it lacks obstacle avoidance and specific positioning sensors that enhance tracking. To access these features, upgrading to the Pro version or considering the Mavic line would be necessary.
In terms of flight capabilities, the DJI Phantom 3 achieves effectiveness at distances of up to 3.5 miles and offers a flight duration between 22 and 24 minutes, both commendable figures.
As is characteristic of most DJI drones, the Phantom series boasts robustness, particularly due to its sturdy construction. However, this robust build does present challenges when it comes to packing and portability.
For a glimpse at awesome fresh equipment, simply CLICK HERE.
This post may contain affiliate links which means OMG Team may receive a commission for purchases made through links. We will only recommend products that OMG Team have personally used! Learn more on our Private Policy page.