Foods
Ecuadorian Food: 10 Dishes you Can't Miss
Ecuadorian food is a culinary treasure that reflects the country's diverse landscapes and cultural heritage. From the coastal regions offering delectable seafood delights to the Andean highlands presenting hearty stews and unique snacks, Ecuadorian cuisine is a delightful fusion of flavors and traditions that captivate the palates of locals and visitors alike.
Encocado de Camarones: A Coconut-infused Seafood Delight
Indulge in the flavors of the coast with Encocado de Camarones, a scrumptious shrimp stew that hails from Ecuador's coastal regions. Infused with creamy coconut milk and a blend of spices, this dish offers a tantalizing balance of sweet and savory. Served with rice and accompanied by a side of fried plantains, Encocado de Camarones will transport you to the shores of Ecuador with every bite.
Fritada: The Ultimate Pork Fiesta
Experience the true essence of Ecuadorian fiestas with Fritada, a beloved dish that celebrates the country's love for succulent pork. Marinated with a special spice blend, and beer. The pork is slow-cooked resulting in tender, flavorful meat that will leave you craving for more. Served with roasted potatoes, and a side of fresh salad, Fritada promises an explosion of flavors and textures that will delight your senses.
Locro de Papa: Hearty Potato Soup
Warm your soul with Locro de Papa, a comforting potato soup that holds a special place in Ecuadorian hearts. Made with potatoes, cheese, and a touch of Ecuadorian spices, this creamy soup is the mother of ecuadorian comfort food. Served with avocado slices, fresh cheese, and peanuts on top, Locro de Papa is a warm hug in a bowl.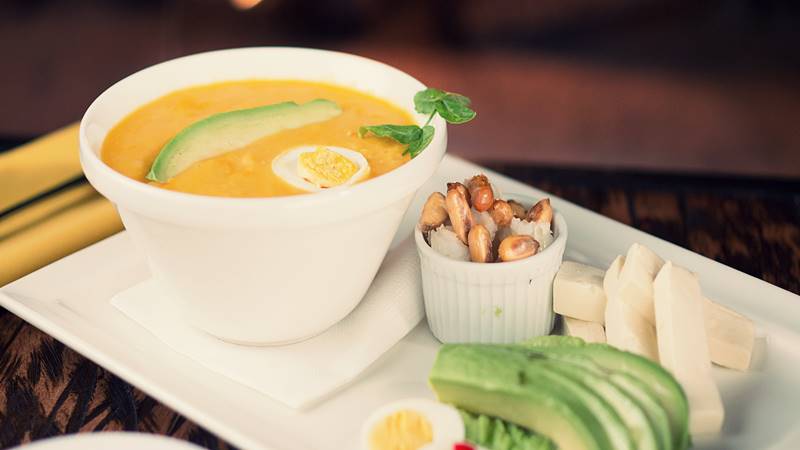 Morocho: Quenching Corn Beverage
Experience the traditional flavors of Ecuador with Morocho, a unique beverage made from ground corn, milk, and spices. Served hot or cold, Morocho offers a refreshing and delicious treat that is perfect for any time of the day.
Bolón de Verde: Savory Plantain Dumplings
A beloved Ecuadorian snack made from mashed green plantains. Stuffed with cheese or chicharrón (fried pork), these savory dumplings offer a delightful contrast of textures and flavors. Bolón de Verde is a popular street food that will win your heart with its simplicity and deliciousness.
Arroz con Menestra: Classic Rice and Beans Combo
Another comfort food, Arroz con Menestra, a traditional rice and beans dish that is a staple in Ecuadorian households. Seasoned with aromatic herbs and spices, the fluffy rice is accompanied by a hearty serving of lentils or beans, creating a satisfying and nutritious meal. Often served with grilled meat and fried plantains.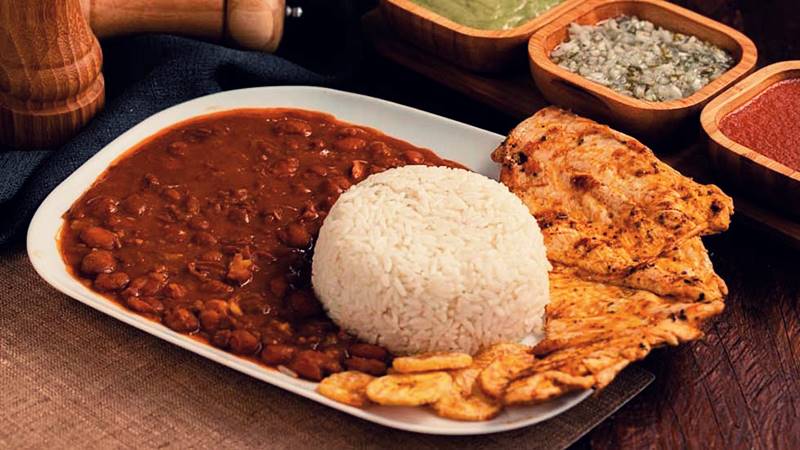 Seco de Pollo: Flavorful Chicken Stew
Flavorful chicken stew that represents Ecuador's culinary artistry. Marinated with a unique blend of spices, refrito (salteé onions, green peppers, tomatoes, and garlic) and beer, the tender chicken is slow-cooked and absorbs the rich flavors of the broth. Served with rice, avocado slices, and a fresh salad, Seco de Pollo is a delightful dish that will leave you craving for more.
Cecina: Air-Dried Pork Delight
Ecuador's traditional cured meat, Cecina, a delicacy made from thinly sliced and air-dried pork. Marinated with a mix of spices and then sun-dried, Cecina offers a savory and slightly smoky taste that perfectly complements other dishes or stands alone as a flavorful snack. Whether enjoyed with a side of ripe plantains or added to hearty stews, Cecina will captivate your taste buds.
Encebollado: A Seafood Lover's Dream
Dive into Ecuador's coastal flavors with Encebollado, a fish soup that captures the essence of the sea. Combining fresh tuna, yuca, and onions in a savory tuna broth, this hearty soup offers a burst of textures and flavors. Often garnished with cilantro, lime, and pickled red onions, and served with chifles, Encebollado is a breakfast dish and a hangover remedy.
Llapingachohs: Potatoes cake
Stuffed potato cakes that are a staple of Ecuadorian cuisine. Made from mashed potatoes mixed with cheese or chorizo, these crispy patties are served with a tangy peanut sauce, avocado slices, and a zesty tomato-onion salsa, providing a mouthwatering mix of flavors.
Ecuador's culinary treasures go beyond the famous dishes, offering an assortment of flavors and experiences to explore. From the coastal delights of Encocado de Camarones to the heartwarming comfort of Locro de Papa, each dish carries the essence of Ecuador's cultural heritage and culinary artistry.
If you're considering a trip to Ecuador, be sure to explore our list of recommended the top accommodations and must-visit places. For those new to the world of backpacking, don't miss our invaluable travel tips to kickstart your exciting journey into the world of travel.