Ecuador
South America
Experience top-notch facilities at Tiki Limbo Surf Hostel in Montañita, Ecuador
Tiki Limbo Surf Hostel in Montañita, Ecuador, is a hidden gem for surf enthusiasts and travelers seeking an unforgettable beachside experience. Nestled along the vibrant coastline, this unique hostel offers an inviting atmosphere, comfortable accommodations, and an array of services that cater to the needs of every guest. From its well-appointed rooms to its convenient location and exciting activities, Tiki Limbo Surf Hostel guarantees an unforgettable stay.
Comfortable Retreats with a Coastal Vibe At Tiki Limbo Surf Hostel.
The rooms are more than just a place to rest your head—they're a comfortable retreat designed with a coastal vibe in mind. The hostel shared dormitories and private rooms. Each room is tastefully decorated, featuring vibrant colors, cozy beds, and ample storage space. Whether you're traveling solo or with a group, you'll find the perfect space to relax and unwind after a day of adventures.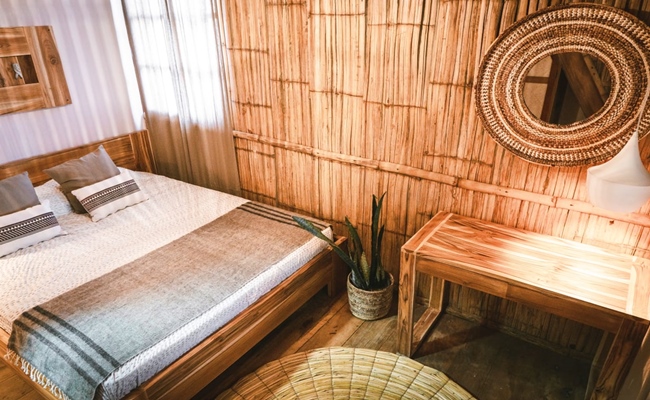 Facilities and Services
The spacious common areas are perfect for socializing, playing games, or simply relaxing with a book. Furthermore, the hostel offers complimentary Wi-Fi, ensuring you stay connected throughout your stay. With friendly and attentive staff always on hand, you can expect personalized service that caters to your every need. Also, its restaurant offers delicious food made with high quality ingredients, which is highly recommended for having dinner with friends or just relaxing with a cup of coffee in the morning.
Proximity to a plethora of exciting activities.
Whether you're a seasoned surfer or a beginner looking to catch your first wave, the hostel offers surf lessons and equipment rentals to ensure you make the most of Montañita's renowned surf breaks. If you prefer to explore on land, you can embark on hiking or biking excursions to discover the natural wonders that surround the town. The hostel's knowledgeable staff can also provide recommendations for nearby attractions, including waterfalls, nature reserves, and traditional markets.
Tiki Limbo Surf Hostel in Montañita, Ecuador, is a haven for surf enthusiasts and beach lovers alike. With its comfortable rooms, excellent facilities and services, prime location, emphasis on safety, and a wide range of exciting activities, this hostel offers everything you need for an unforgettable stay. Whether you're seeking an adrenaline-pumping surf adventure or a relaxing beach getaway, Tiki Limbo Surf Hostel is the perfect choice to immerse yourself in the laid-back charm of Montañita while enjoying the thrill of the waves.