As a solo traveler, finding a comfortable and safe place to stay is always a priority. Guillerminas Boutique Hostel in Cuenca, Ecuador, is an ideal choice for those seeking a unique and cozy accommodation that provides a sense of community while still allowing for privacy. In this review, we will take a closer look at what makes Guillerminas a standout hostel for solo travelers.
Cozy and Comfortable Rooms
The hostel has a variety of rooms, including private rooms and dorms. Each room is beautifully decorated with vibrant colors, local artwork, and handmade furniture. The beds are comfortable with high-quality linens, and each room has a private bathroom. Additionally, the hostel provides daily housekeeping services to ensure that the rooms are clean and tidy.
A Home Away from Home at Guillerminas Hostel in Cuenca
Guillerminas Boutique Hostel is not just a place to stay; it's a community. The hostel's communal areas, including the kitchen, lounge, and courtyard, are designed to encourage interaction among guests. Solo travelers can meet other travelers from around the world, exchange travel tips, and even cook meals together. The hostel also hosts regular events, such as movie nights and language exchange sessions, to foster a sense of community among guests.
Safety and Security: Peace of Mind for Solo Travelers
As a solo traveler, safety is always a concern. Guillerminas Boutique Hostel takes safety seriously and has several security measures in place to ensure that guests feel secure during their stay. The hostel has 24-hour security, CCTV cameras throughout the property, and a secure keycard access system. Additionally, the hostel provides lockers in each room for guests to store their valuables.
A Central Base to Explore Cuenca
Guillerminas Boutique Hostel is located in the heart of Cuenca, just a few blocks from the city's historic center. Its location provides easy access to popular tourist spots such as the Historic Center of Cuenca, El Cajas National Park, and Ingapirca Complex. Solo travelers can also explore the local markets, restaurants, and bars within walking distance of the hostel.
The Historic Center of Cuenca
The Historic Center of Cuenca is a UNESCO World Heritage site and is considered one of the most beautiful colonial cities in South America. Its cobblestone streets, white-washed buildings with red-tiled roofs, and ornate churches create an enchanting atmosphere that takes you back in time. Take a leisurely stroll through the streets, visit the iconic Cuenca Cathedral, and admire the colorful flower markets and street vendors selling handicrafts.
El Cajas National Park
Located just outside of Cuenca, El Cajas National Park is a breathtaking natural wonder that offers a variety of outdoor activities for visitors. The park covers over 70,000 acres and features over 200 glacial lakes and stunning mountain landscapes. Go for a hike or horseback ride along one of the many trails, or simply relax and take in the natural beauty of the park.
Ingapirca Ruins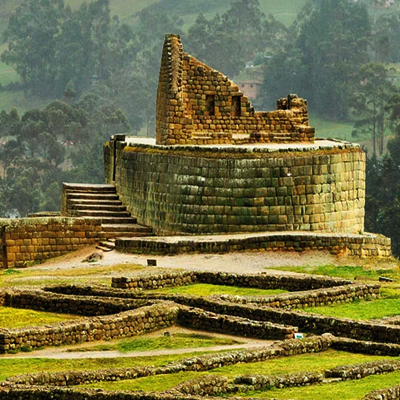 Located about 50 miles north of Cuenca, the Ingapirca Complex is the largest and best-preserved Inca ruins in Ecuador. The complex features a series of stone structures, including the Temple of the Sun, the Castle, and the Ceremonial Plaza, which offer a fascinating insight into the Inca's advanced engineering and architectural skills. Visitors can take a guided tour of the complex, which includes a visit to the onsite museum that showcases a range of artifacts and exhibits related to the Inca civilization.
Why Choose Guillerminas Boutique Hostel in Cuenca as a Solo Traveler?
Guillerminas Boutique Hostel is the perfect accommodation for solo travelers looking for a comfortable and welcoming environment. With its central location, cozy rooms, community atmosphere, and focus on safety and security, Guillerminas provides a sense of home away from home. Additionally, the hostel's friendly and knowledgeable staff are always available to help solo travelers make the most of their time in Cuenca.
In conclusion, Guillerminas Boutique Hostel is an excellent choice for solo travelers looking for a unique and welcoming accommodation in Cuenca, Ecuador. With its prime location, cozy rooms, sense of community, and focus on safety and security, this hostel provides an ideal base for