Hostal Palafito Waiwen is nestled in the heart of Castro, Chile, Hostal Palafito Waiwen beckons travelers with its enchanting waterside charm and rich cultural heritage.
Accommodation at Hostal Palafito Waiwen: Hostal Palafito Waiwen offers a unique experience, with its charming palafito-style architecture standing on stilts over the waters of Castro's picturesque bay. The hostel boasts a variety of cozy and well-appointed rooms, each thoughtfully designed to provide a comfortable and welcoming atmosphere. From private rooms with stunning waterfront views to shared dormitories for the budget-conscious traveler, every guest is sure to find the perfect spot to rest and rejuvenate.
Population and Interesting Fact about Castro: Castro is a captivating city situated on the island of Chiloé, in southern Chile. With a population of approximately 40,000 residents, Castro embraces its traditional fishing heritage and is renowned for its iconic palafitos, colorful houses built on stilts above the water. One intriguing fact about Castro is its sea-level elevation, offering visitors the unique opportunity to stay in palafitos-turned-hostels, like Hostal Palafito Waiwen, and immerse themselves in the city's history and culture.
Climate and Weather Contrasts: Castro experiences a temperate oceanic climate, making it a pleasant destination for travelers throughout the year. During the daytime, temperatures hover around a mild 12-18°C (54-64°F), providing the perfect weather to explore the city's attractions and take in the stunning vistas of the Chiloé Archipelago. As night falls, the temperature slightly drops to a comfortable 8-12°C (46-54°F), inviting travelers to relax and unwind after a day of adventure.
Main Attractions around Castro: Castro is a city brimming with cultural richness and natural beauty. Start your journey with a visit to the Palafito neighborhoods, where you can stroll along the waterfront and witness the captivating sight of colorful houses reflected in the calm waters. The nearby Chiloé National Park offers hiking trails through lush forests and opportunities to spot various bird species and other wildlife.
For a taste of local history, the Church of San Francisco, a UNESCO World Heritage site, showcases intricate wood carvings and impressive architecture. Additionally, a visit to the Museo Regional de Castro provides insight into Chiloé's cultural heritage and traditions.
Food and Culinary Delights: Castro offers a delightful array of traditional Chilote cuisine, showcasing a blend of fresh seafood and unique flavors. Don't miss the chance to savor the iconic Curanto, a traditional feast consisting of shellfish, potatoes, meat, and vegetables, cooked in an underground pit heated by hot stones. The rich and creamy seafood stew, Chupe de Mariscos, is another must-try dish, perfect for warming up on cooler evenings.
For dessert, indulge in the delicious milcao and chapalele, both made from grated potatoes and cooked to golden perfection. Pair these delightful dishes with a glass of local chicha or the refreshing Licor de Oro, a Chilote liqueur made from oranges and sugar.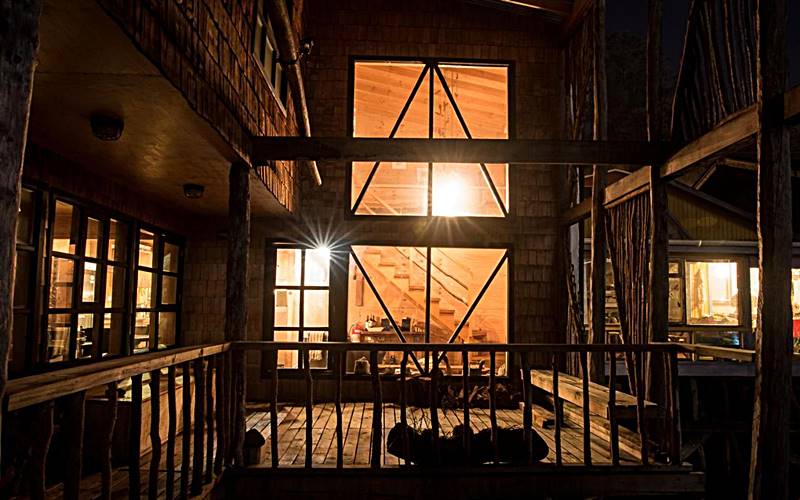 Hostal Palafito Waiwen in Castro, Chile, offers travelers an unforgettable experience, blending comfort with the city's rich cultural heritage. The unique palafito-style accommodations provide the perfect setting to immerse yourself in Castro's waterside charm and unique architectural history. From exploring the vibrant palafito neighborhoods to savoring traditional Chilote dishes, Castro promises an authentic and captivating journey for every traveler.
Embrace the warm hospitality of Hostal Palafito Waiwen, delve into the mysteries of Chiloé's past, and savor the flavors of its delectable cuisine. Castro invites you to discover its hidden treasures and experience the essence of Chilote culture, all while creating cherished memories that will linger in your heart long after your journey ends.
Discover More Top 10 Places to Stay in Chile – Click Here!