Foods
Peruvian Food: The Top 5 Dishes you Must Try
Prepare for an adventure into the world of Peruvian food. Renowned for its rich culinary heritage, from the ocean's bounty to the heights of the Andes, Peruvian food is a symphony of ingredients and techniques that will leave you spechless. Join us on this journey, and discover with us the top 5 dishes that bring together the essence of Peruvian gastronomy!
Ceviche
Immerse yourself in the irresistible flavors of Peruvian ceviche, the crown jewel of coastal cuisine. With its roots in ancient traditions, this zesty dish showcases the freshest fish or seafood, marinated in a tangy citrus concoction. Bursting with the vibrant notes of lime juice, onions, and rocoto peppers, ceviche tantalizes your taste buds with its delicate balance of flavors. Served with sweet potatoes and crunchy corn kernels, this quintessential Peruvian delight will transport you to the shores of the Pacific.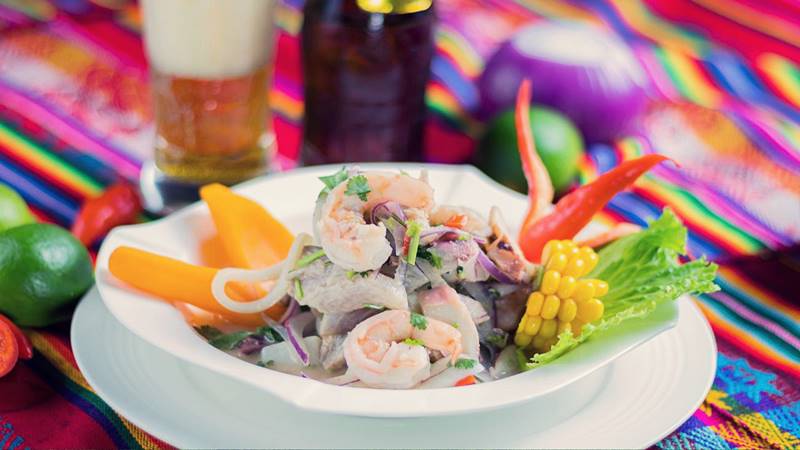 Lomo Saltado
A Fusion Fiesta of Chinese and Peruvian culinary traditions with lomo saltado. This sizzling stir-fry dish takes tender strips of beef or chicken, sautéed to perfection with onions, tomatoes, soy sauce, and a touch of aji amarillo pepper. A symphony of savory, tangy, and mildly spicy flavors, lomo saltado is served atop a bed of steaming rice, accompanied by golden French fries. Prepare for a culinary fiesta that harmonizes diverse influences into a mouthwatering experience.
Causa Rellena, a masterpiece of Peruvian Food
Layers of seasoned mashed yellow potatoes, infused with zesty lime juice and aji amarillo pepper, create a stunning canvas for this dish. Generously filled with creamy chicken or seafood salad, causa rellena is garnished with avocado slices, boiled eggs, and olives. As you savor each bite, the intricate combination of textures and flavors will leave you awe-inspired by this edible work of art.
Anticuchos
Grilled Perfection, Peruvian Style: Experience the smoky perfection of anticuchos, a quintessential Peruvian street food delight. These marinated and grilled meat skewers, rooted in Afro-Peruvian heritage, captivate with their irresistible aroma and succulent flavors. Tender beef hearts, infused with garlic, cumin, and aji panca pepper, are grilled to perfection. Served with roasted potatoes and zesty huacatay sauce, anticuchos provide a mouthwatering taste of smoky, spicy, and utterly satisfying grilled goodness.
Aji de Gallina
Indulge in the comforting warmth of aji de gallina, a beloved dish that epitomizes the essence of Peruvian comfort food. This creamy chicken stew, hailing from the colonial era, envelops tender shredded chicken in a velvety sauce made with yellow chili peppers, walnuts, garlic, and Parmesan cheese. Served over fluffy rice, accompanied by boiled potatoes and garnished with black olives, aji de gallina offers a symphony of flavors that evoke feelings of nostalgia and pure culinary satisfaction.
Get ready to embark on an extraordinary culinary journey through the vibrant flavors and rich cultural heritage of Peruvian gastronomy. From the refreshing ceviche to the fusion fiesta of lomo saltado, the edible artistry of causa rellena, the grilled perfection of anticuchos, and the comforting bliss of aji de gallina, Peruvian cuisine promises an unforgettable feast for your senses.
And if you're searching for accommodations in Peru, don't worry! The top 10 accommodations in the country have been carefully selected, offering a perfect blend of comfort and luxury for you to choose from. So, let your taste buds guide you, as you indulge in the wonders of Peru, where every dish tells a story and every bite is a celebration of flavor!