Selina Amazon Tena is Nestled in the heart of the Amazon rainforest in the city of Tena, offers an extraordinary hostel experience for travelers seeking an immersive and thrilling encounter with nature. This jungle retreat provides a range of amenities, comfortable rooms, and exciting activities that cater to both relaxation and adventure. With its prime location in Tena, a famous area for the best white water rafting in South America, guests can indulge in an unforgettable blend of natural beauty and adrenaline-pumping experiences.
Selina Amazon Tena boasts a plethora of offerings that cater to the diverse interests of travelers.
The hostel's communal areas are vibrant and welcoming, providing opportunities to socialize and connect with like-minded adventurers from around the world. Lounge in the cozy common spaces, exchange stories and tips, or participate in the hostel's organized events and activities. For those seeking relaxation, there are tranquil spots where you can unwind and soak in the serenity of the surrounding jungle.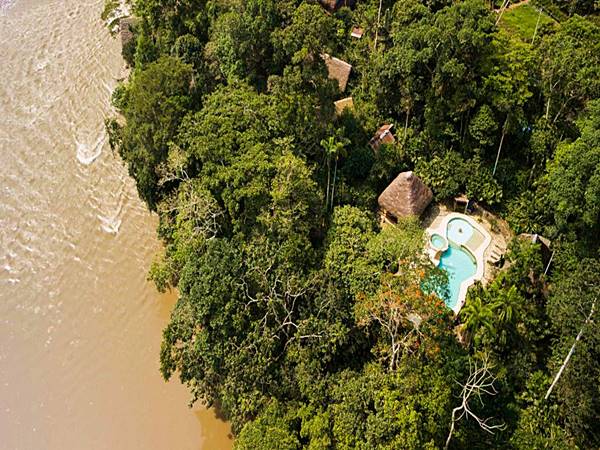 The rooms at Selina Amazon Tena are designed with comfort and convenience in mind. From cozy dormitories to private rooms, each space is tastefully furnished, offering a peaceful sanctuary amidst the lush greenery. Guests can expect comfortable beds, modern amenities, and clean facilities. Whether you choose a shared dormitory or opt for a private room, you'll find a comfortable and inviting space to recharge after a day of adventure.
Speaking of adventure, Selina Amazon Tena is perfectly situated for exploring the incredible natural wonders of the area. Tena is renowned as a hub for outdoor enthusiasts and is widely considered the best white water rafting destination in South America. Thrill-seekers can embark on exhilarating rafting trips along the mighty rivers, navigating the rapids and enjoying the breathtaking scenery that surrounds them. The hostel can assist in organizing rafting tours and other exciting activities such as jungle hikes, wildlife spotting, and kayaking expeditions, ensuring an adrenaline-fueled stay in this remarkable part of the Amazon.
Beyond the adventure activities, Tena offers a wealth of opportunities to immerse oneself in the local culture and natural beauty. Explore the nearby indigenous communities and gain insight into their traditional way of life. Discover hidden waterfalls, go tubing down gentle rivers, or take a guided tour to learn about the fascinating flora and fauna of the Amazon rainforest. Indulge in delicious local cuisine, sample exotic fruits, and experience the warmth and hospitality of the Ecuadorian people.
In conclusion, Selina Amazon Tena is a captivating jungle retreat that caters to the adventurous spirit of travelers. With its comfortable rooms, vibrant communal spaces, and thrilling activities, the hostel provides a unique opportunity to connect with nature and embark on unforgettable experiences. Located in the famous white water rafting area of Tena, guests can quench their thirst for adventure while being surrounded by the awe-inspiring beauty of the Amazon rainforest. Whether you seek adrenaline-pumping escapades or a peaceful encounter with nature, Selina Amazon Tena offers the perfect base for an exceptional and immersive journey into the heart of the jungle.