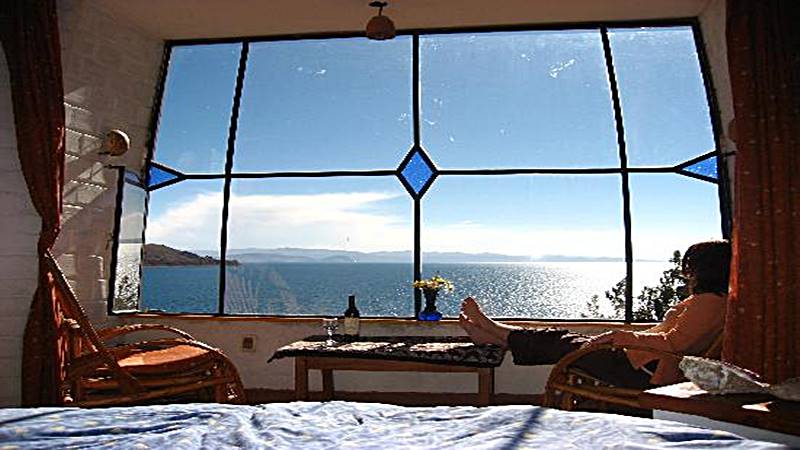 Hostal Las Olas is nestled on a picturesque hillside in Copacabana, Bolivia, It offers a tranquil retreat with breathtaking views of Lake Titicaca. Each of its eleven suites provides a marvelous panoramic view of the bay and the expansive lake, creating a truly unforgettable experience for guests.
What sets Hostal Las Olas apart is its unique construction. The hostel's architecture seamlessly blends with the natural landscape, creating a harmonious and eco-friendly atmosphere. From adobe walls to unique shaped roofs, every detail reflects the incredible craftsmanship and building techniques, adding a touch of artistic flare to the accommodations.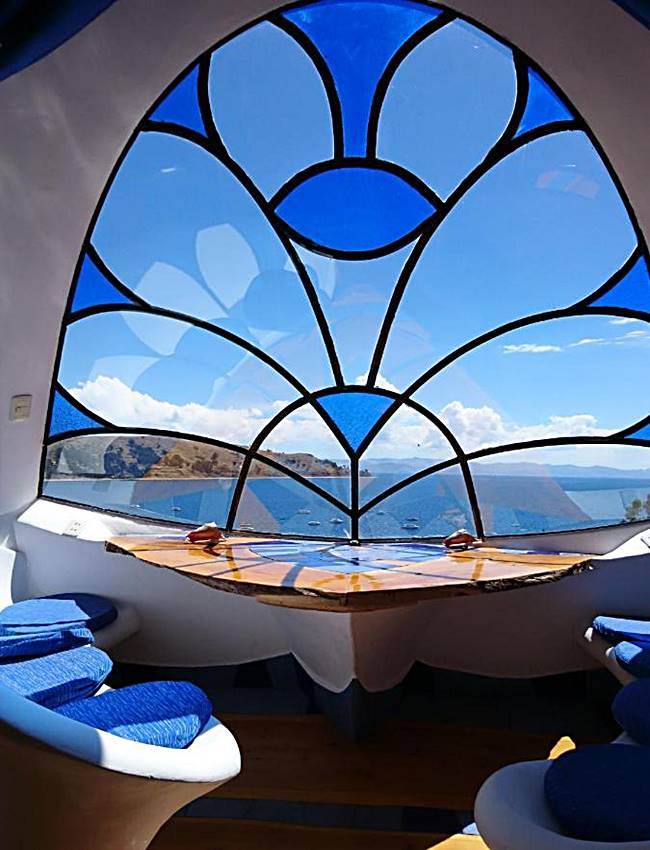 Surrounded by the natural beauty of Lake Titicaca, Hostal Las Olas is ideally located for exploration. The area is known for its rich cultural heritage and fascinating attractions. Take a boat ride to Isla del Sol, the birthplace of the Inca civilization, and discover ancient ruins and terraced hillsides. Explore the mystical island of Isla de la Luna, believed to be the home of Inca moon goddesses. The lake's azure waters also offer opportunities for kayaking, paddleboarding, and fishing, providing an array of activities for outdoor enthusiasts.
The climate around Lake Titicaca varies throughout the year. During the summer months of December to February, the weather is generally warm and pleasant, perfect for outdoor adventures and exploring the islands. However, it is advisable to pack some warm clothing, as temperatures can drop significantly in the evenings. In the winter months of June to August, the climate becomes cooler, and occasional rain showers may occur. Regardless of the season, the awe-inspiring beauty of Lake Titicaca remains unchanged, casting its enchanting spell on visitors.
Whether you seek serenity, natural wonders, or a glimpse into ancient cultures, Hostal Las Olas in Copacabana is the ideal destination. Indulge in the stunning lake views from your suite, immerse yourself in the unique construction of the hostel, and explore the captivating attractions that Lake Titicaca has to offer. A stay at Hostal Las Olas promises an unforgettable experience amidst the captivating beauty of Bolivia's largest lake.
Embarking on your Bolivian adventure? Discover our top picks for accommodations in the finest cities and hostels.