Accommodation at Tetris Container Hostel, Foz do Iguaçu
Welcome to Tetris Container Hostel, where creativity meets comfort in Foz do Iguaçu, Brazil. Our unique hostel is crafted from colorful shipping containers, offering an innovative and cozy accommodation experience. Choose from a range of well-appointed rooms, including shared dormitories and private suites, each designed to provide a relaxing and unforgettable stay amidst the beauty of Foz do Iguaçu
.Things to Do in Foz do Iguaçu, Brazil
Foz do Iguaçu is a paradise for nature enthusiasts and adventure seekers alike. Witness the awe-inspiring Iguaçu Falls, a UNESCO World Heritage site and one of the most magnificent waterfalls in the world. Embark on an exhilarating boat ride to experience the falls up close, where the thunderous roar and mist will leave you in awe. Explore the Parque das Aves (Bird Park), home to a diverse array of exotic bird species, and immerse yourself in the beauty of the lush tropical forest.
Interesting Facts about Foz do Iguaçu, Brazil
Foz do Iguaçu is located at an altitude of approximately 196 meters (643 feet) above sea level and boasts a subtropical climate. Daytime temperatures in this region range from 25 to 30 degrees Celsius (77 to 86 degrees Fahrenheit), providing a perfect environment for outdoor activities. As night falls, temperatures drop to around 15 to 20 degrees Celsius (59 to 68 degrees Fahrenheit), offering a pleasant and refreshing ambiance.
Main Attractions around Foz do Iguaçu, Brazil
The highlight of Foz do Iguaçu is undoubtedly the breathtaking Iguaçu Falls, a natural wonder shared between Brazil and Argentina. Witness the colossal power of the cascades from both countries' viewpoints, each providing a unique perspective on this majestic spectacle. Discover the Itaipu Dam, one of the largest hydroelectric power plants in the world, and learn about its engineering marvels and sustainable energy production.
Why People Should Visit Foz do Iguaçu, Brazil
Foz do Iguaçu is a destination that promises an unforgettable and awe-inspiring experience. The grandeur of the Iguaçu Falls, the vibrant greenery of the surrounding national parks, and the sense of wonder that permeates the air make Foz do Iguaçu a must-visit destination for nature lovers and adventure enthusiasts.
Food and Main Dishes in Foz do Iguaçu, Brazil
Foz do Iguaçu embraces a multicultural gastronomy, offering a delightful fusion of flavors from different cultures. Taste the traditional Brazilian barbecue, Churrasco, featuring succulent meats cooked to perfection. Savor the local specialty, Pão de Queijo, a cheesy bread that will tantalize your taste buds. Don't miss the mouthwatering Moqueca, a delicious seafood stew cooked with coconut milk and spices, representing the rich Brazilian coastal cuisine.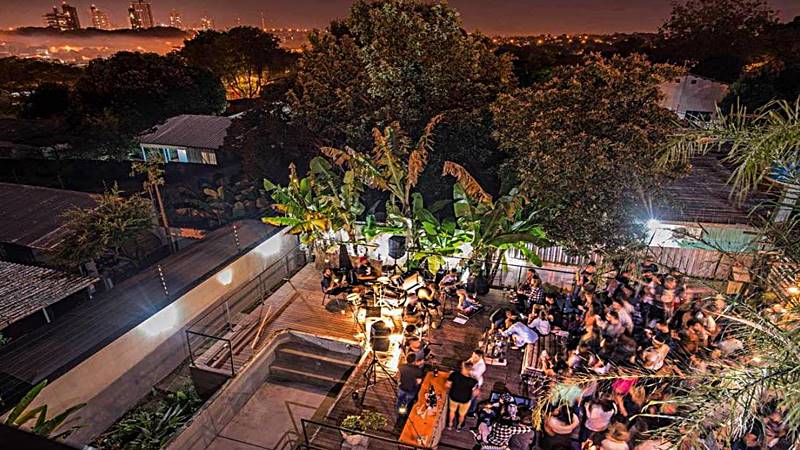 Discover the Wonder of Foz do Iguaçu at Tetris Container Hostel
Book your stay at Tetris Container Hostel and unlock the wonders of Foz do Iguaçu, Brazil. Whether you're exploring the mighty waterfalls, immersing yourself in the lush natural beauty, or savoring the local delicacies, our hostel offers an extraordinary adventure in this captivating region. Embrace the essence of Foz do Iguaçu at Tetris Container Hostel, where every piece of your journey fits perfectly together.
Discover More Top 10 Places to Stay in Brazil – Click Here!